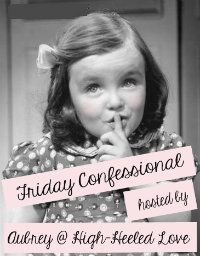 It's time for a few confessions with Aubrey at High-Heeled Love.
I Confess... I'm actually kind of glad that today is the last day of "Blog every day in May". I love reading about everyone, but a huge percentage of the blogs I follow having the same topic every day got a little redundant.
I Confess...

My baby sister is 17 today and that makes me feel old.
I Confess...

Making time to take pictures of my jewelry is my downfall. I NEED to make a new lightbox so that it isn't such a chore to get good pictures.
I Confess...

I'm insanely excited about how the details of my wedding are coming together :)
I Confess...

Our dance lessons have been going really well the past few times and I'm really excited about what our instructor is working on as far as a routine is concerned.
I Confess...

This is Jason's last weekend in his apartment before he moves in with his parents for a few months. Month to Month was way to expensive but we are looking for a house to rent so he is moving home for two or three months while we look for something. I'm really going to miss sleepovers. We're already picking a few weekends to get away together.
What do you have to confess this week?