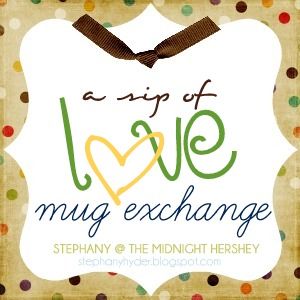 So today is the day for linking up what we got from our swap partners! I was partnered with Dawn from
LeroyLime
and I just LOVE the mug she picked out for me :)
She included this great "Sexy" bookmark with a sweet note on the back too! I had a 'signature mug' who's time ran out this week when it was dropped and the handle broke off, so this beauty has taken it's place as my tea mug! I use it every night now. In fact, I'm having my nighttime tea for out coffee date this week in my new mug!
Thanks Dawn!
And thanks to
Stephany
for hosting! Now onto our coffee date :)
I was going to post a video but I was so busy last night and this morning I never got around to it.
If we were having coffee this week I would tell you how busy I've been! In a good way, but very busy all the same. I'm really excited about the Halloween Party J and I are hosting tonight. It should be a whole lot of fun! I'm also already thinking ahead to my Blanket Making Party for Project Warmth! I think it's going to be a lot of fun and I'm really excited about the idea. Basically I'm staying really really busy right now.
I need to slow down. Actually, I want to slow down but I can't find anything that I want to give up either. Most of what I'm doing just comes with being me, and this busy "almost-holiday' season.
How about you? What's happening with you this week?