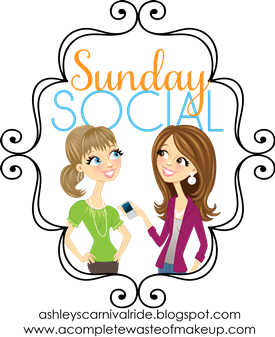 Have you heard? There is a new link-up! Ashley and Neely are hosting Sunday Social, a link-up where we all answer questions to get to know each other better! So here are this week's questions and my answers:
How did you come up with your blog name?
Well, it's a little bit of a long story, but the short version is I had another blog for two years, then a lot changed for me and I wanted to give myself a real facelift and start over. So in order to keep a little bit of the image I'd already created, I made my old tag line my new blog title.
The easier and more obvious reasons are that I am a girl from South Carolina and most people would say I'm pretty sweet, but we all have our little secrets :)
What is your favorite thing about blogging?
I really enjoy blogging because I get to connect with mew people. It's also another creative outlet for me.
What is one thing you have discovered because of blogging and now cant live without?
EOS Lip Balm Spheres. LOVE!
Facebook or Twitter? and why?
Short Answer: It depends.
Long Answer: I like twitter for random commentary and talking back and forth with friends. It's fun and just easy to connect with people that way. I like FB for sharing articles, websites, and other stuff that I think is important information, and of course for uploading pictures into albums.
If one celeb read your blog who would you want it to be?
That's a tough one. Because it's not just who is your favorite celeb, but who would you hope to have enough in common with for them to read your blog. I think I'd have to go with Allysa Milano. I love her. She seems like someone I'd like to be friends with and she's super generous.
What is something you want people to know about your blog?
I had to really think about this one. Basically my blog is me. I post about a lot of different things, and there may be times it doesn't seem to make sense, and that's because sometimes I don't make sense. I try to focus on positives here, and I want to meet people through this blog. I guess that's what I would want people to know.