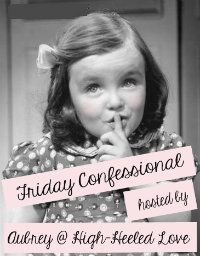 It's time for a few confessions with Aubrey at High-Heeled Love.
I Confess... I'm going to GA with my sister this weekend. I'm excited, but there is no real 'plan' and it's just very strange with me to travel with no plan.
I Confess...

I"m obsessed with our engagement pictures :) I knew that Amanda would do an excellent job, but I'm just soo happy with the results.
I Confess...

I'm a little nervous about next weekend. The ladies in my family are coming over to see me try on my wedding dress (since I didn't actually go dress shopping to take anyone with me) but I've put on a little weight and I'm nervous about how it's going to look right now. I hear the gym calling my name.
I Confess...

Allergies suck. My throat hurts so bad today :(
I Confess...

I'm hoping to sell lots and lots of jewelry at my show next month so that I have plenty of money to pay for some wedding "extras".
I Confess...

Jason and I have our first pre-marital counseling session next week and I'm very excited about it :) (Is that weird?)
What do you have to confess this week?