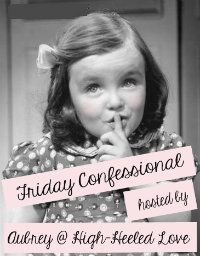 It's time for a few confessions with Aubrey at High-Heeled Love.
I Confess... Work has taken a lot out of me this week. I've gone from one project to the next all week and this is the pace I'm likely to keep all through April!
I Confess...

I'm falling behind on blogging. Anyone want to hook me up with a guest post? *grin*
I Confess...

I'm so excited for my friend Rebecca. She's getting married this weekend and I can't wait to celebrate with her. I'm worried though that her wedding is going to cause me to be super emotional. Every time I think about my wedding lately I dissolve into tears because my Daddy won't be there. I don't want to lose it on her big day.
I Confess...

I talked to my doctor this week and I got a stronger dose of my anxiety/depression medication. I'm really hoping it makes a big difference soon.
I Confess...

I have got to find someone to help me with my taxes this year. I really need to do that soon.
I Confess...

I am sooo ready for April 2nd. J and I are heading to Baltimore for a few days (I have a conference to attend) then onto Inn Boonsboro and visiting with J's family in Pittsburgh.
What do you have to confess this week?