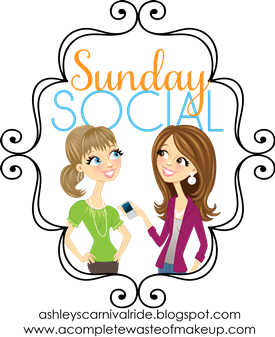 I haven't participated in Sunday Social in a while, thought I'd jump in this week!
1. Favorite Holiday Movies/TV Specials?
In addition to the classics, I LOVE the newer Movies on Hallmark and ABC Family. Holiday in Handcuffs, and Naughty or Nice come to mind first.
2. Do you do any volunteering during the holidays if so what? If not what would you do?
I haven't put in a lotf of hours the past few years unless it's been overtime at work. (I work for a non-profit) But I am collecting blankets for the Soup Kitchen for Project Warmth this year.
3. Favorite toy received as a Child for the Holidays?
My water-baby. I was what, 5? But it still sticks out as my favorite Christmas gift!
4. What was your must have item in high school for the Holidays?
I was always looking for $$ to go shopping. I liked buying my own clothes, still do.
5. Item you begged for the most and never got?
I always wanted a pet as a kid, but we weren't home enough and really couldn't afford the upkeep.
6. What do you do on Christmas Eve? If you are Jewish what does your family do for Hanukkah?
My step-father is a minister, so we all have dinner together, sometimes play a board game or something like that, then attend the Midnight service together.