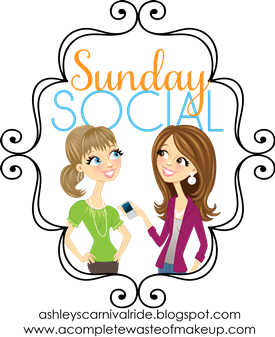 I'm linking up with Ashley and Neely for Sunday Social. This week is all about food, and I love to eat! So here it goes.
1. If you could only eat one thing for the rest of your life, what would it be?
How in the world am I supposed to choose?! Probably Cheese Fries though. Nothing beats good cheese fries :)
2. What's your guilty pleasure/comfort food?
Also Cheese Fries, and warm Chocolate Chip Cookies.
3. What's the weirdest/craziest thing you've ever eaten?
I'm not much for the weird/crazy category when it comes to food. I had gator bites, that's as crazy as it gets.
4. What foods do you avoid at all costs?
I hate mayonaise. I know that's a condiment and not a food, but as a result I don't eat most potato/pasta salads, and dressings are totally out. I can't stand mayonnaise and things that are made with lots of it.
5. What meal reminds you of your childhood?
Tuna Patties, Potato Patties and green peas. It was so cheap and easy to make, my mom made them all the time and I loved it!
6. Share one of your favorite recipes and the story behind it.
My mama makes the best macaroni and cheese. She brought it to every family dinner since forever. She taught me to make it and now I take it to parties and things with my friends.
I don't have measurements, I didn't learn to cook that way. But this feeds about 15 people or so.
Cook about 3/4 a box of elbow noodles.
Get one of those disposable lasagna tins from the grocery store.
Use half of the noodles to cover the bottom of the tin.
Cover with cheese (sharp cheddar is best but you can play around with it)
Pour the rest of the noodles over that.
Cover with cheese again. This is the top so you can use a little more cheese on this layer.
Put about 6 teaspoons of butter on the top.
Open a can of evaporated milk and pour into the casserole from the sides.
Cover it with tinfoil and bake at 375* for about 30 minutes.
Take of the tin foil and cook until the top layer of cheese browns to your liking.
Take it out and let it sit 15-30 minutes.
It's the best macaroni and cheese you'll ever eat.
Can you tell I have a thing for cheese?