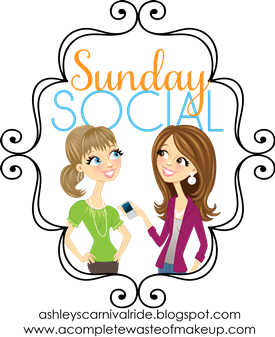 I'm linking up with Neely and Ashley for Sunday Social!
1. What is the best trip you've ever been on?
Cross-Country road trip with an old friend. We hit Memphis, Oklahoma City, the Cadillac Ranch, and the Grand Canyon.
2. What is your best idea for a girls weekend trip?
Napa Valley Spa Weekend!
3. What is your best idea for a couples trip?
Somewhere with room service and a hot tub.
4. What is the best vacation on the cheap?
Beach Trip. Cheap hotel, cause I'll spend the whole day on the beach :)
5. What is the place you most want to visit?
Italy
6. What are your vacation necessities?
Camera, little sundress, sandals, and plastic bags for all liquid items! I had a bottle of shampoo spill out in my suitcase once after a TSA inspection. It was a disaster!