I went out with my friends last night for trivia. It's been forever since we've been and it was a harsh reminder that I'm not in college anymore, and I party all night and go to work the next day like I used to. I'm dragging a little bit this morning. But it was worth it. We had such a great time!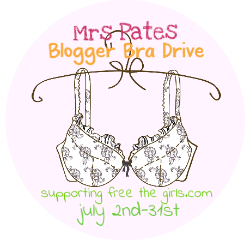 So I wanted to take some time to update you on the Bra Drive! As of today
10
people have donated a total of
50 bras
(and that doesn't include the 19 more Holli is sending!). That's amazing! AND we still have more time to collect! Some of you have already asked for my address to ship some to me and I can't wait to see how many we have come July 28th!
I am still collecting for my giveaway prize but so far there is jewelry, a book, and a unique piece of art. (wags eyebrows excitedly)
Don't forget to
enter the giveaway
if you're donating and spread the work about the drive!
On a more social note, I was nominated for the Liebster Blog award by both
Corbin
and
Ashley
last week! I am always flattered that people think of me even if I'm a horrible award recipient that doesn't follow the rules.
I'm supposed to share 11 things, but I think linking
THIS POST
from last Friday covers that. And I'm supposed to nominate 11 other people for this award but so many people already have it and I don't want to leave anyone out so my philosophy is if you want it, take it.
Again, I'm a horrible award recipient. So basically I wanted to give a shout out to my bloggy buddies who think so highly of me, but I'm gonna officially stop doing awards as of today. Partially because I'm not good at following the instructions, and also because I don't like picking recipients. Then there's the "what if I forget or don't have time angle". Point is, thanks for liking me! And now I'm bowing out.

Also, I'm linking up with
Source:
pin4fun8961.blogspot.com
via
Danielle
on
Pinterest
Source:
google.com
via
Danielle
on
Pinterest
Source:
itunes.apple.com
via
Erin
on
Pinterest
So I'm all over the place today.
How's everyone else doing this week?