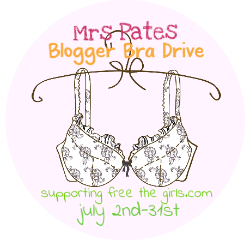 I want to thank each and every one of my friends and readers who sent me bras for the Blogger Bra Drive Hosted by Mrs Pate Writes.
At final count I received 102 bras from 15 people!
Holli, from
Holli's Hoots and Hollers
sent me the most bras. She donated/collected/solicited a total of 34 bras! So as a thank you, she is getting this necklace.
Thanks Holli!
As for the winner of the giveaway? It was Jana!
a Rafflecopter giveaway
She's getting a fun prize pack that includes these goodies!
I can't thank you all enough for participating! This has been a wonderful experience and I look forward to working with Mrs Pate on other projects in the near future!
**If you missed out on this drive don't worry! There will be another so start putting those bras aside now. Also, if you would like to donate to Free The Girls to help with the costs of international shipping, you can do that HERE.**