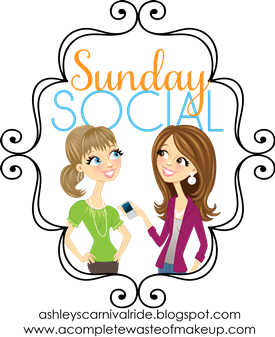 It's time to socialize again! I'm linking up with
Neely
and
Ashley
for Sunday Social! This weeks is all about music, and my commitment issues.
1) What is your all time favorite song?
So hard! All time favorite?! How can I possibly choose? Ok, I can do this. I just have to commit.
Nope, I can't do it.
Not Ready to Make Nice by the Dixie Chicks, Everything I Can't Have by Robin Thicke, Mona Lisa's and Mad Hatters by Elton John, All Summer Long by Kid Rock, Where Are You Now by Rob Blackledge
...just to name a few.
2) What is your favorite Singer/Band?
Seriously again? Don't you girls know I have commitment issues with music? I love so much!
Alright, Michael Buble, Dave Barnes, Mandy Moore, Kid Rock, and Laura Bell Bundy.
Oh, and Lady Antebellum, and Brantley Gilbert.
Oh and also, Adele.
3) What is your theme song/song that best describes your life?
Heart Like Mine by Miranda Lambert


&
That Kind of Day by Sarah Buxton


4) What songs put you in a good mood?
Pour Some Sugar on Me - Def Leppard
Jack and Diane - John Mellencamp
Time of my Life - Bill Medley and Jennifer Warnes
Promiscuous - Nelly Furtado
Life is a Highway - Tom Petty
Seriously? I could do this all day.
5) What song are you embarrassed to admit you love?
See, I don't embarrass easy. But if I did maybe I touch Myself by the Divinyls? Or Boyfriend by Justin Bieber. (More likely)