This is my first time linking up with Friday's Letters, but it seemed like something fun to do :)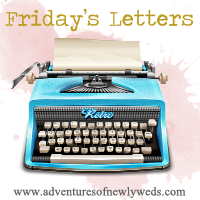 Dear Grandma
, I'm so glad I'm staying with you. You're quirky and awesome. Don't ever change.
Dear J
, Thank you for helping me move for a solid month! I couldn't have done it without you, though perhaps you could have done it without me. :)
Dear Bella Latte
, I love you. Do not worry, even my new healthy habits will not keep me from a frozen chocolate covered strawberry once a week.
Dear Hateful People,
Please stop being so hateful. There is no need. The world would be boring if we all agreed on everything.
Dear Sis
, Please drive safely but hurry to see me! I can't wait to hang out this weekend!
Dear paycheck
, why aren't you more? Don't you know I need some new shoes.
Dear Wen Hair Care
, thank you for coming today! I can't wait to use you this weekend!
Alright, so mine seem a little silly, but it's Friday, so whatever :)