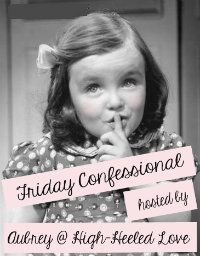 It's time for a few confessions with Aubrey at High-Heeled Love.
I Confess... I'm so excited about tomorrow. It's our first real "wedding weekend". I'm having all the women in the family over to see my dress in the morning and I'm going to show off some of the crafts I'm working on for the wedding. Then we're having a cookout with our immediate families in the afternoon
I Confess...

Even though I'm thrilled about it, this weekend has been a real catalyst for emotional fireworks for me. I had a bit of a meltdown last night that resulted in my mom deciding to come a day early.
I Confess...

Planning the happiest day of my life while still dealing with the saddest day of my life has been extremely difficult and I'd decided to go see my old counselor this week only to discover that she's getting a PhD and no longer seeing patients. Let's just say that could have contributed to the meltdown.
I Confess...

I'm insanely excited about some new jewelry designs I'm going to have at my next show. I'm also a little nervous because while my Lexington Shows have always been hugely successful, the ones I've hosted near home always seem to fall flat. I'm working really hard to make sure this one doesn't.
I Confess...

I've been really unmotivated at work because of all of the stuff I'm trying to do in my personal life and with my business. As much as I like working with victims, I truly look forward to the day when I can focus on my passions.
I Confess...

I have the best fiance ever. He just takes care of things when he knows I'm not dealing well. I got a text asking for my social this morning. He's taken it upon himself to handle our application for a marriage certificate and also applying for my passport. He's awesome.
What do you have to confess this week?