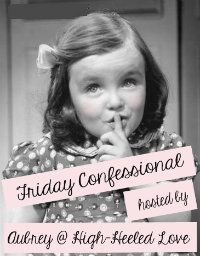 It's time for a few confessions with Aubrey at High-Heeled Love.
I Confess... Working on the Rock the Denim Event has really kindled a love for event planning in my soul. Seriously, I could do this all the time!
I Confess...

I momentarily considered that $2000 for this set would be worth it for a "studio" set up.
Then I remembered that I don't have $2,000 and I could sew patches onto thrift store furniture for much less. But seriously, isn't that AWESOME?
I Confess...

I got the swatches for the bridesmaid dresses yesterday and I'm really excited about my colors :)
There is a dark brown on the back of the card.
I Confess...

I'm pretty sure I've found a way to make awesome scarfs for less the $4 each in materials! Can't wait to try it out and share it :)
I Confess...

I'm getting some review products soon that I'm VERY excited about. I love blogging!
I Confess...

I'm functioning a little better each day, but it's still hard for me to do wedding stuff. It's like I can't think about my Daddy not being there, but I want to get excited and do "bridal" stuff. I'm hoping it'll get a little easier before long.
What do you have to confess this week?