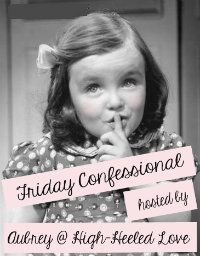 I Confess... I realized yesterday that I had at least a dozen things to put in the mail and I decided to wait until tomorrow and go to the local post office instead of spending my entire most of my lunch break there today.
I Confess...

I'm in the giddy place where I 'remember' at least 5 times a day that I'm getting married and I squeal and grin like a little girl.
I Confess...

I've been eating horribly (I might have eaten a whole bag of mini Reece's by myself) and I have to stop and try to lose at least some weight before October.
I Confess...

I've been doing some real thinking about changing the way I do things with this little blog of mine, and I'm hoping to be on track with my new ideas in March.
I Confess...

I've been doing a horrible job at keeping up with blogs. I'm to the point that I think I need to go through and clean out my reader again. There are just sooo many blogs!
I Confess...

I've been a little zealous with swaps. I realized this week I've been sending out way too many packages and I need to save money.
That's all for me this week. Do you have something to confess?