Happy New Year!

I hope everyone had a wonderful & safe holiday. We stayed in and it was really nice.

So I'm a bad blogger. I nearly forgot to share all the awesome goodies I got in December!
First Up, Secret Santa Swap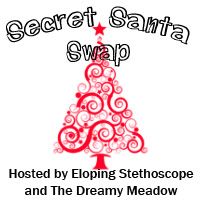 The cool thing about this swap was that I signed up so long before we actually sent packages, I forgot what was on my wishlist! I loved all of it! Especially the adorable notecards!
I sent to Brenda, you can see her goodies
HERE
.
The theme this month was Holiday Sparkle. I had a lot of fun with Brenda's and I love what I got from Tonya. (Side note: There was also a large bag of M&Ms in my package.... they didn't make it to the picture.)
I'm sorry this isn't a great reveal post, but with the holiday, getting engaged, and going back to work, I've just let some things get away from me. I'm doing some real work today though! I can't wait for the official launch of the Wino Wednesday Link-Up tomorrow! It's going to be great :)