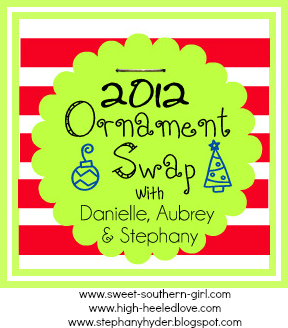 Remember last month when I announced the Ornament Swap I was hosting with
Aubrey
and
Stephany
? Well it's time for the big reveal!
I got ornaments from
Stephany
and she REALLY spoiled me!
I love everything! The Tacky Sweater ornament is awesome, and the Palmetto Christmas Tree is so perfect! Stephany and Aubrey are both fellow Palmetto Bloggers!

The Pink Ball Ornament with the lamb and the mirror? So adorable! I should give it all to my cousin, but I'm keeping the cute little plush lamb for myself :)

She also sent a Martini Ornament, Bath and Body Works antibacterial foam and lotion, three hot teas, and Starbucks instant caramel coffee.

What a Swap Package!
Don't forget to link-up your reveal posts!