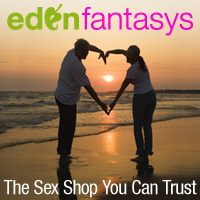 Since I'm here on a new blog with some new friends I feel like I'm starting fresh! So I want to reintroduce you, or perhaps introduce you for the first time, to my favorite online company, EdenFantasys.
EdenFantasys is an online sex shop and they have so much to offer! It's more than a retail site, it's a community where you can get involved and earn points to count towards your purchases! Just by setting up an account and creating a wishlist, you're going to earn points that convert directly into giftcards that you can use!
With EdenFantasys you can shop for
sex toys
, sensual romance aids, books, DVDs, lingerie, and luxurious bath and body products. With that kind of selection there is something for everyone!
If you're new to the idea of buying things to spice it up in the bedroom, you may think that receiving a package from a sex store would be embarassing. That's where you'd be wrong! You see the packaging is so discreet. I would be comfortable having this shipped to my mom's house! In fact I often have the shipping boxes sitting around the apartment when my mom visits and I can guarantee that she's never had any idea.
Of course there are always great articles on Eden Cafe and great giveaways every week! If you are a facebook fan you can get some great deals that way too. There are just so many ways to plug in with EdenFantasys and I think that anyone and everyone will find something that they just have to have.
My next big purchase will be one of these...
Image borrowed from EdenFantasys.com
The Original Toibocks
looks like a jewelry box but there is a hidden compartment that can only be unlatched with a magnetic key. It's perfect for the small items you want to get to quickly, but don't want to be easily accessed by little hands or prying eyes.
If you've never visited EdenFantasys take some time to check out their site. Everything might not be for you, but I guarantee you will find something you love and you won't be disappointed.